The hippie van is a vehicle that has two passengers.
Gallery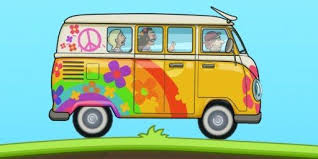 Trivia
The hippie van is very destructible. With the roof, doors, and headlights.
The two passengers can both snap their necks.
The hippie van can go through trees instead of running them over.
The wheels will be affected by wear and tear and eventually falls off, it gets fixed in two seconds.
It automatically gives a boost that gives additional speed for a short duration.